WHAT IS THE FASTEST WAY TO RELIEVE NECK PAIN?
We had a few posts on why you may get a headache and what you have to do about it. Now here's a post on what to do for neck pain relief. While consulting a chiropractor for neck pain is the best option for total pain relief, there are some measures you can do at home to ease the neck pain. This article contains suggestions from award-winning and experienced Chiropractor Murfreesboro TN, Dr. Oscar Noriega DC about how to care for yourself if you suffer from chronic neck pain. These exercises can also be done along with chiropractic treatment performed by a licensed chiropractor.
Home Remedies For Neck Pain Relief
It is helpful to apply heat or ice to the painful area and avoid jerking or painful activities until the pain subsides. There are also some gentle neck stretches you can perform like shoulder roll and side rotation.
Those who have neck pain usually also have shoulder tightness, pain, and discomfort. This great stretching exercise you can do at home helps release your shoulders and take some tension off your neck. 
You can do the exercise with or without a towel. But most of our patients need a towel. 
Take the towel and throw it over your back. With your opposite hand, reach below and grab onto the towel. You'll be able to pull up and get a stretch into your shoulder and then pull down to stretch into your upper shoulder.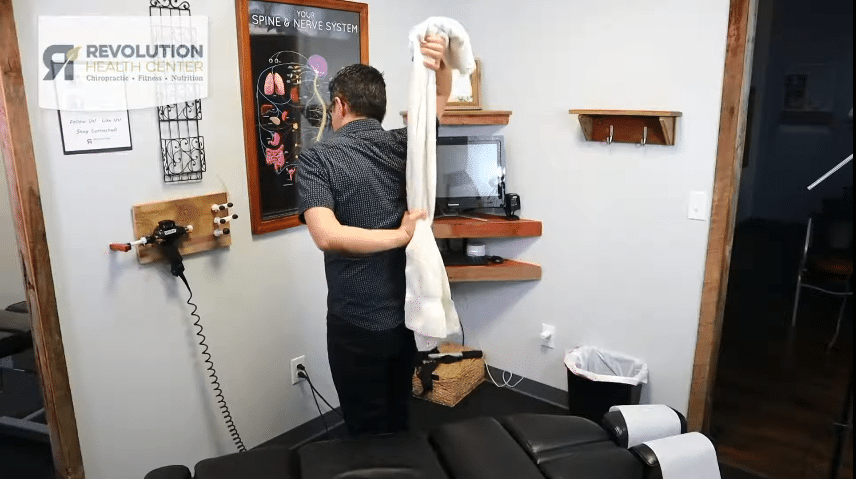 The movement releases the tension in the shoulders and ultimately takes the tension off your back as well too. 
Next, throw the towel over to the other side. Grab the towel, pull up and stretch your lower arm and then pull down to stretch your upper arm as well.
You don't necessarily need the towel to be able to do this.
Try putting your hands behind your back like in the picture below. Grab and hook your fingers so that you can pull and stretch in that way too. 
This also works at releasing the tension but is a little trickier. 
That's why we recommend doing it with the towel.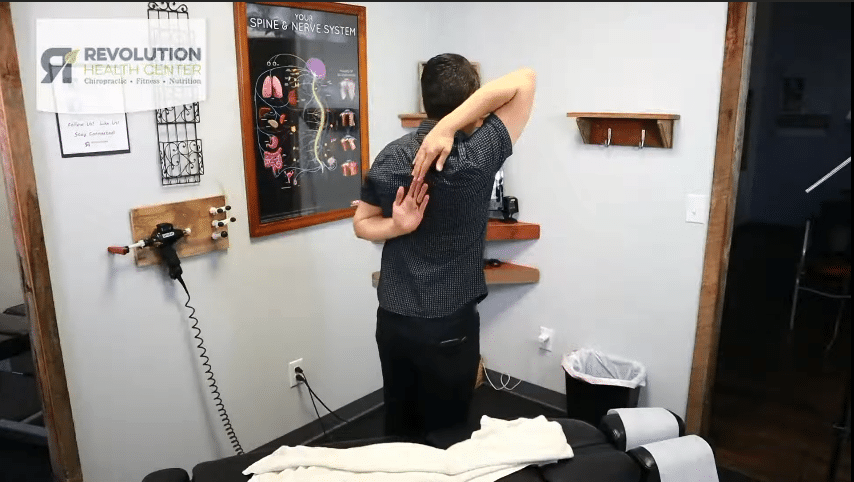 Watch Video Of Shoulder Stretch
CAN CHIROPRACTORS HELP WITH NECK PAIN?
Yes. The stretching exercise is part of chiropractic care and works because the entire body is interconnected. Most neck pain sufferers don't just have neck pain and discomfort. The shoulder, upper and lower back, the upper neck, and even your skull may also be involved.
Consulting a chiropractor treatment for neck pain or any specialist can help provide neck pain relief by treating the root cause of the pain. We evaluate the condition to see what's going on and develop a customized treatment plan to fix and stabilize your neck and spine.
CHIROPRACTIC TREATMENTS FOR NECK PAIN
Our chiropractic treatment plan for neck pain may comprise neck adjustment or cervical manipulation techniques like flexion-distraction technique or specific spinal manipulation. 
If required, Dr. Noriega may also recommend manual therapies like manual joint stretching and resistance techniques, trigger point therapy, or therapeutic massage.